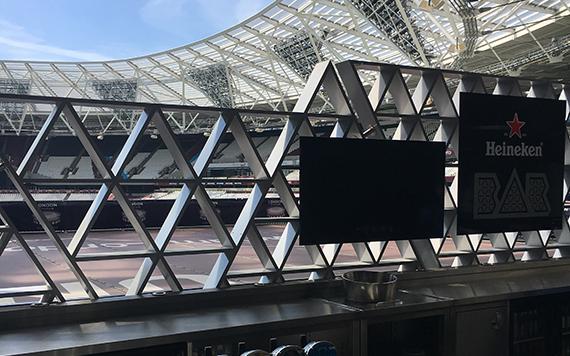 London Stadium turnstiles open from 12 noon on Sunday which is 2 hours before kick-off for the Premier League game against Manchester United.
This stadium doors will open at noon with early bird offers on food and drink from 12 until 1:15 pm
The stadium is fully cashless, so make sure you have the correct payment method to hand when making purchases. The free Stadium WIFI means that you can connect with stable and fast speeds throughout the concourse and in the bowl – just join toLSFreeWIFI to enter your details and connect.
For those that arrive early, EARLY BIRD offers on food and drink include £4 a pint and £6 for a pie and pint combo from 12.00 to 1.15 pm. There will be live music at the Heineken bar from 11.30 am until 1:30 pm and from noon you can take your seat and enjoy the matchday show, with interviews and build-up ahead of kick-off (show starts at 1 pm).
Ticketing – Reminders
Ensure your mobile phone is fully charged and that you have your matchday e-ticket, either downloaded to your smartphone or printed out, ready to scan upon entry as you approach your turnstile. For more information on ticketing options, click here.
Plan your journey to London Stadium and ensure you arrive early and at least one hour before kick-off
Follow the Supporter Code of Conduct when at the stadium
Ensure you have proof of your COVID-19 status: that you have been fully vaccinated or have a negative lateral flow test result in the previous 48 hours
Do not travel to the stadium if you feel unwell or display COVID-19 symptoms
All ticket holders will receive direct email and SMS from the Club with further information