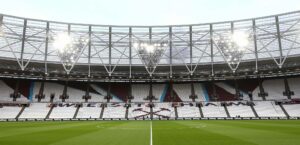 Supporters have rejected the concept of creating an artificial atmosphere at the London Stadium should West Ham games be played behind closed doors.
A report in yesterday's Times suggested a number Premier League clubs were proposing pumping in fake fan noise to help players and TV cameras in empty.
It was further suggested that England could follow a German model where season ticket holders can purchase cardboard cutouts to be placed in their seat.
Flags and banners would be encouraged to break up the empty seats.
A Claret and Hugh poll over 400 readers suggest the idea could be a non-start with West Ham fans.
Over 63% of those who answered say the London Stadium should be left completely empty if West Ham games are played behind closed doors
15% agreed that pumping in fake crowd could work while the remaining 22% thought the idea of artificial crowd noise and cardboard cutouts was a goer.