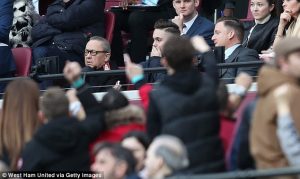 A Claret and Hugh poll of 1,977 supporters say West Ham owners David Sullivan David Gold should stay away from the next home game versus Southampton on 31st March.
Just over 41% said the owners should not come to the next home game at the London Stadium with over nearly 6% saying they should move seats.  Over 52% say the directors have every right to stay in their seats in the directors' box.
Claret and Hugh understand the poll result which appears to have split the fanbase on the issue has been seen by the owners who have yet to comment whether they plan to take up their normal seats in two weeks time.  Extra security measures will be in place for the next game with extra stewards and police inside the stadium. The directors' box may also have extra security barriers in front of it with beefed up security presence.
Yesterday the Sun said that "David Gold and David Gold intend to risk the threat of more personal abuse by showing up for West Ham's crunch clash with Southampton." adding that "the pair believe it is important to show their support for the side in the crunch relegation battle, so plan to attend what will be the first match since last week's sorry scenes."