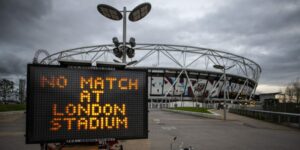 A majority of West Ham supporters would happily accept a discount from next season's West Ham season ticket at the London Stadium should the remaining games be played behind closed doors or the season be declared null and void.
A Claret and Hugh poll revealed more than 48% of those voting would accept a season ticket discount next season equal to the five home games missed while over 25% said they would prefer a refund in real money as soon as possible.
A further 15% would accept a season ticket discount over two seasons to help the club finances while nearly 6% said they would forgo any refund to help the club.
The remaining 7% said the refund should be donated to charity or given to the NHS.
With five home games remaining at the London Stadium the refund bill could be around £5m even though the ticket terms and conditions do not specify the number of home games included in a season ticket. The Club has yet to make a decision adopting a wait and see approach on whether the season can be completed in front of supporters or not.