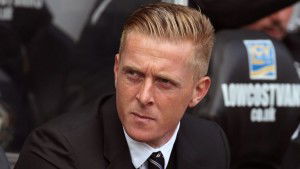 Garry Monk has totally removed himself from stories linking himself with the West Ham job.
The rather daft rumour started circulating earlier this afternoon but the Swansea boss was quick to kill it off via the BBC.
Monk has led the Swans to a record-equalling 47 Premier League points with six games left – four more than the Hammers.
Monk – in denying linkls to Upton Park – said: "West Ham have a fantastic manager in place. For them to be looking elsewhere – if they are – I think they've already got the manager there who's had a fantastic season.
"I look at that type of speculation as a compliment to the way myself and the team have worked this season, showing we're progressing and going in the right direction."