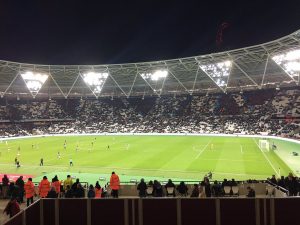 West Ham co-chairman David Gold said last Wednesday "I think the majority of fans are happy with the Stadium given the alternatives and if all goes to plan it will be the biggest in London. dg"
On the back on Mr Gold's statement, Claret and Hugh ran a poll to ask West Ham supporters the very simple question. Are you happy with the London Stadium? With 1,500 voting to make it statistically significant, 56% agreed with the chairman to confirm they were happy with the London Stadium leaving 44% to register their unhappiness.
This prompted Iain Dale from WestHamTillIDie.com and myself to discuss the creation of a wide ranging questionnaire on the London Stadium from a supporter's perspective after 221 days or 31 weeks after we officially played our first game at the former Olympic Stadium last summer.
This is not designed to an anti-board or even a pro-stadium survey, there is no hidden agenda. It is merely a survey to highlight West Ham fans perception of the new stadium and what areas might still need improvement. The full results will be shared with the West Ham board for their consideration.
Please only fill out the survey if you have visited the London Stadium in person to sample one or more of the 19 competitive games and/or the one friendly which have been played at our new home since the 4th August last year. Please base your answers on your most recent visit to the stadium to recognise areas which may have been a problem at the beginning but have since improved.
The aims of this questionnaire is also supported by the West Ham United Independent Supporters' Association (WHUISA) and they have kindly agreed to send it out to their six hundred plus paid up members. You can find out more about WHUISA and how to join http://www.whuisa.org
We would like to encourage as many season ticket holders, claret members and general admission ticket supporters to answer this questionnaire as possible so please spread the word far and wide on forums and social media.
Take the survey at https://www.surveymonkey.co.uk/r/7QC93Q2
Sean & Iain