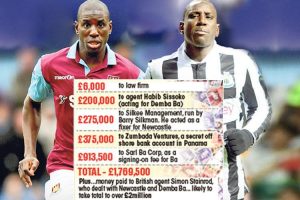 Former Hammer Demba Ba is the player whose transfer believed to be at the heart of the football tax probe as he allegedly pocketed nearly £1m for image rights when he joined Newcastle on a "free transfer" after leaving West Ham according to a report by the Sun.
Ba's cash was part of a £2m fee the Magpies paid to an agent, who also earmarked £375,000 to go to a company registered in Panama.
The Senegal striker moved to the club from West Ham in June 2011 but left on a free transfer following relegation.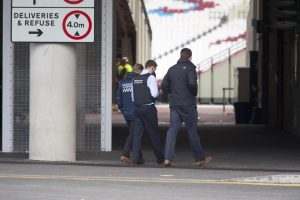 The £2m Ba cash was  paid by Newcastle into the FA's clearing system, before being moved by a law firm to five parties under the instruction of agent Simon Stainrod according to the report.
Barry Silkman, who has strong links to West Ham, allegedly got £275,000,with the split also apparently involving Sissoko's firm Quatorze Management.
A tax source told the Sun: "If the Ba payment was a golden hello, it should be assessed and taxed. If Ba hasn't paid tax on this, there is a clearly an avoidance issue.
A Newcastle source insisted the club has been "above board in everything". They added: "HMRC are investigating it because we have been involved with various agents. We can't do anything about an agent shoving money into an account in Panama."
A source close to West Ham equally said that they had nothing to hide and everything had been done by the letter.
The Sun say neither Mr Stainrod nor Mr Silkman were available to comment. Sissoko is under arrest.