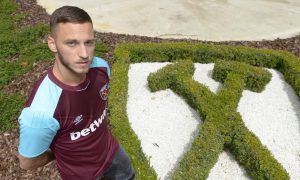 Stoke chairman Peter Coates has been told to clean up the 'garbage' at his club rather than attack West Hm new boy Marko Arnautovic.
Coates launched a blistering attack on our £24 million signing for a lack of loyalty but has now had it returned with interest by the attacker's brother Daniel who is also his agent.
Speaking to The Sun he said: "Why Marko left Stoke I won't tell you. I can only say that Mr Coates should clean up his own garbage within the club walls before pointing fingers at anyone outside of it.
"What exactly I mean is up to the club to reveal, as this is the last time I will comment on anything Stoke say.
"I'd personally like to thank Stoke for the courage they had four years ago when they signed my brother.
"I would, in my own and Marko's names especially, like to thank Stoke fans and Mark Hughes for all the love they have shown.
"But to be honest, I was expecting a little bit more respect from certain people within the club instead of reading attacking articles."