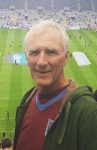 By CandH blogger Allen Cummings
Don't you just hate these blank weekends? Ok, I know the one upcoming is self-inflicted.
However, if we'd beaten Wimbledon, as we all know we should have done, the upcoming weekend would  have been anything but blank and boring, with Millwall visiting the London Stadium in the 5th round of the F.A. Cup.
Who knows what would have happened. Best to not to go there.
At least the extended break, together with warm weather training in Spain will give some of our injured players extra recovery time. And word is a few of the big name absentees could be in line for consideration by the time we entertain Fulham.
Fabian Balbuena is one who it is hoped will be ready for action again, so too Samir Nasri. But perhaps the most eagerly anticipated return is that of Manuel Lanzini, our little Argentinian genius who has been missing all season.
It's led to some fans speculating on the prospect of Lanzini, Nasri and Felipe Anderson all appearing in the same side – a mouth watering prospect on the face of it. But is it really practical to have the trio playing together?
We all love the thought of creativity and flair in our side with exponents of the beautiful game spraying passes left, right and centre and threading  balls through the eye of a needle.
It would be a dream come true of course if it were possible. But while the luxury players are always desirable, the workhorses are just as important. Before you can be creative with the ball, you have to win it first. And you have to stop the opposition being creative when they have the ball.
We all know how good Declan Rice is and how important his role is to the team but  he can't do that job on his own. He needs help in the middle from a similar sort of player who at the moment appears to be Mark Noble.
I firmly believe we have to find room for Michail Antonio, not everyone's favourite I admit, but surely coming back to his best of a few years ago. Physically strong, plenty of pace and with a renewed eye for goal, he also occupies that naturally wide role that stretches defences.
Then we need that natural goal scorer up top. That looks like being Arnautovic for the time being at least. So already places are becoming limited. Anderson is a must, of course, which leaves us Lanzini and Nasri vying for the remaining shirt. Let's not forget Snoddy either, and what he brings to the team.
It will be a conundrum Manuel Pellegrini will have to address but one I'm sure with which he will be delighted to be confronted.
  In the meantime of course we can all have our say – it'll help pass the time between now and the next game!