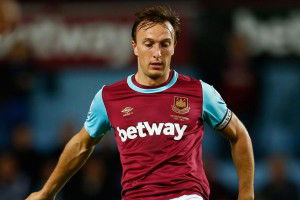 I wasn't surprised or therefore disappointed as we slumped out against Iceland.
There was just one overwhelming emotion for me and it was this – thank God our Nobes wasn't a part of the shambles that was Roy Hodgson's England.
The geezer has now gone thanking his players …err WHY? They were dreadful and that Mark not being a part of it was a massive result for the skipper.
He doesn't deserve that sort of hangover ahead of what is a huge season . He's a top bloke who in missing out on Woy's wasted tournament has escaped a big humiliation.
Tonight was thoroughly awful. Mark may have improved things, Andy Carroll was certainy an option Woy should have accepted  and Aaron Cresswell should have been on the left side of the back four.
But the manager wouldn't listen and has paid a heavy price by falling on whatever sword he may have had left. We have said it many many times to successive England managers:
YOU WIN NOTHINGWITHOUT THREE HAMMERS 🙂
COYI