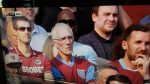 By Allen Cummings
Are there any others on here who, like me, can't wait for 11pm on Wednesday night and the slamming shut of that wretched transfer window – the witching hour when the chimes strike and no-one is allowed in or out.
All very dramatic I know and  it would be silly to suggest the majority of us don't secretly enjoy a bit of football tittle-tattle and gossip now and again. But I've just about had my fill right now of all the rumours, speculation and in many cases ludicrous and down right lies that have been washing around the football world over the past month.
I certainly have every sympathy for David Moyes who openly admitted at a recent press conference he was glad "that we are getting to the end of the window" and would be happier still when it was all over! You and me both Dave.
So where does so much of this fictional nonsense come from? It goes without saying that the usual suspects who inhabit the 'twotosphere' have been in full flow. Some of the so called 'deals' that were about to be done, or had been done according to their little world beggars belief.
Everyone is an ITK who just can't wait to share their own little piece of football fiction. Problem is, as those of us more level headed souls on here know only too well, Twotter is full of gullible recipients, only too ready and willing to 'pass it on' to their like-minded gang. But not before adding their own little sprinkle of extra fiction. So the fiction escalates.
The tabloid football gossip columns are not totally innocent either. They certainly aren't averse to feeding off the most tenuous of 'tips' to pass on to the thirsty followers.
Then of course there are the famous 'Sky Sports Sources', an apparent army of shadowy figures lurking in the undergrowth at training grounds up and down the country.They apparently watch every move, listen to every whisper, report on every rumour.
 And last, but certainly not least, we have the contribution made by that upstanding band of football agents. Don't we all just love them? The people whose sole aim in life is to look after 'their boy', promote his interest., advance his career, protect his well being. Oh, and just maybe, of course, make a few quid for themselves into the bargain.
This is my least favourite part of the football season, a time guaranteed to stir up all sorts of unsavoury emotions, recriminations and certainly in the case of our club, personal abuse. And we all know where that's usually directed.
I hate it. Come Thursday morning the whole thing will be over thank goodness. Managers can return to doing what they're paid to do, working with what they've got to get the job done where it matter most – out on the pitch.