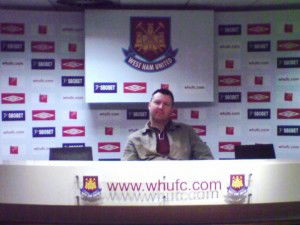 Nigel Kahn has been Sam Allardyce's most relentless critic both in public and private!
He regularly called for the manager's head throughout last season and has been unapologetic over his mega hardline attitude towards the man.
So how does he feel now with with the Irons sitting proudly in fourth spot. ClaretandHugh catches up with 'Nasty' Nigel!
By Nigel Kahn
Times are good indeed – the performances, the results and in fact the whole club is in a great good place and the team is  playing in a way that befits the club and football in general.
Yet  there remains a divide between the pro and anti Sam fans Those that have stood by him – on Twitter anyway – seem hell bent on crowing over the change of fortunes and attributing that to Sam.
What they fail to realise is the owners made it be known after the end of season meeting that there had to be a change of style. It's there in black and white in a website statement on May 20 when they announced he was keeping his job.
The reason the owners made that demand was because of  uproar over his tactics all last season culminating in the most dreadful of victories v Hull.
Pressure by the fans was put on the owners to sack him with around 80% voting for him to go on a poll across over 16 West Ham independent websites.
Constant pressure was applied on the owners to do something. Some may say it is to their to their credit they didn't sack him but gave him one last chance to change.
However, without fan pressure from the so called Anti brigade, the owners may not have considered asking Sam to change.
Fan pressure works. It may not have achieved its ultimate aim in removing Sam it can be seen as being the catalyst for this upturn in the club.
Thus it follows that  if you are a fan of Big Sam and always have been, the next time we win don't be baiting others with the "Sam out brigade gone quiet" or "no Sam outs around Tonight."
Remember instead that if it hadn't been for those who voted for him to go, or those that booed him off after Hull or even those that emailed DS urging him to sack Sam there may have been no change and no fourth place!
I still make no apologies for wanting him out and asking the owners to get rid of him for the sake of the club. He is a divisive manager and those that support him reinforce that with their constant swipes at those, like me,who wanted him gone.
The constant digging out of other West Ham fans, with in some cases a holier than thou attitude, will not bring this club together when at last we are looking upwards and not downwards.
So next time you want to call out those fans that didn't back Sam last season, think again as it's possibly down to those fans that we are now where we are.
The views in this blog are not necessarily shared by ClaretandHugh but are solely the views of the author.