From Hugh Southon, who knew our late co-chairman as a personal friend. 
David Gold was among the finest men I have ever known. It truly was a case of what you see is what you get.
David's dream, whilst co-chairman at Birmingham City, was always to eventually take over at West Ham with his partner of 45 years in business, David Sullivan.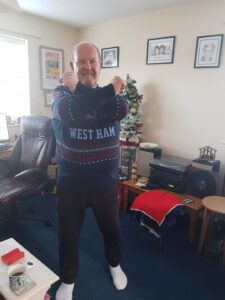 I was working in the Midlands for various national newspapers when we first made contact and down the years, he became a very good friend, even to the point of ringing me most days during lockdown to see how I was when I knew he was very poorly and had had a minimum of three infections himself.
He never leaked important information to me, or anybody else but was always available for conversations about matters concerning the club that were in the public domain.
He had played for the youth team as a boy, of course, and had crept in at half-time on matchday for free, given that he was born into the lap of poverty.
He truly was a West Ham United man to his backbone.
I will always remember him as a truly GENTLE man and a true friend.
I will miss him greatly, as will the vast majority of fans who know as well as I do that he really was an old-school guy who knew what was what.
To have become a millionaire from the background into which he was born is the most amazing of achievements in itself, of course, and that he poured so much of it into our beloved club is something we shall always remember him for.
Goodbye David… Love you immensely.