---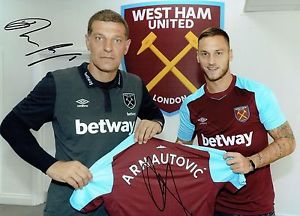 We can thank Slaven Bilic for the signing of Marko …but thank God for Moyes and the making of the man!
I recall Slaven claiming when he landed the Austrian left sided midfielder that he had been tracking him throughout last season and that he was a great player who could play right across the front line.
He then stuck with Andy Carroll as his default front man whilst Marko was stranded out on the left side showing the sort of body language which made most weep.
But fair play to the former boss he saw something others had missed and brought the guy in for £25 million (reportedly).
Stoke insisted we were taking their best player away – that seemed a laugh at the time – particularly when he managed to get himself suspended for a piece of violence which left most of us gobsmacked.
But Moyes knew the answer to his issues turned him into a brilliant striker who is now probably worth double what we bought him for and is the ONLY candidate for Hammer  of the year.
Tomorrow night the main man will go out in search of more goals by which to crucify the club who have been regularly bad mouthing him since his move.
I think he will succeed and let's be fair, in the first place the thanks will need to go to Slav, who will in part have been responsible for our season being saved as a result.
However, it was Moyes who found the key to unlock all that amazing form and at the end of the day he probably takes the lion's share of the credit.
Your views?