By Pete Ellis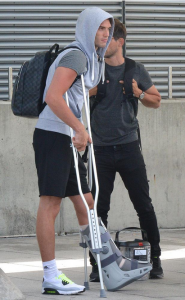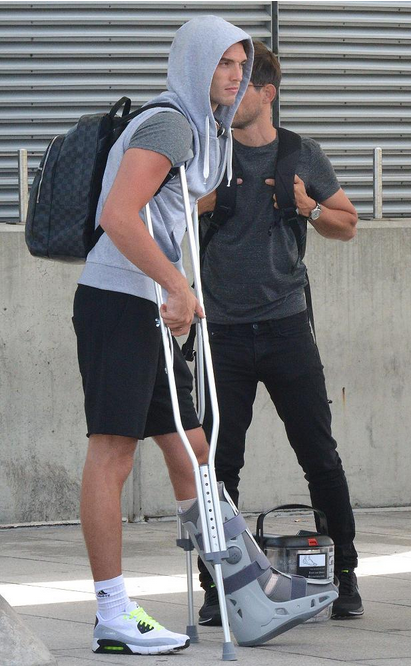 Another interesting week in the Claret and Blue bubble.
Confirmation on Sunday morning that Andy Carroll is injured once again, meant that the staff at twitter had another manic day, trying to save the site from going into meltdown.
The injury is a 4-6 week lay off, although rumours that he threw a shoe in Rio, while Nick Skelton was riding him to dressage gold are both unkind and false.
Clearly, the striker situation needs to be addressed, as Diafra Sakho has been trying, and failing, to keep himself fit over the summer using a Benni McCarthy fitness DVD.
Add to that the fact that Enner Valencia has less confidence than a turkey in December, and you can see why we are linked with more footballers than Katie Price.
The one fit striker we have brought in, Calleri, did  made a cameo versus Bournemouth, and apparently Carlos Tevez advised him to watch footage of some West Ham striking legends.
Judging from his one on one at the end of the Bournemouth game, I can only assume he's started with Carlton Cole….
Another wonderful story from a Sunday's win is that of the phantom seats.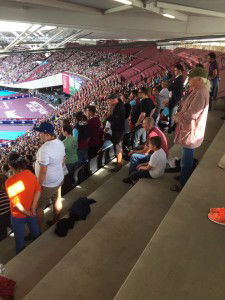 Fans were left bemused as to why their tickets led them to some untouched concrete blocks at the back of the stand.
An admin error was apparently to blame for the seats not being there, and leading them to stand around Stratford's own tribute to Stonehenge.
I think that marquee striker comment may have been issued by the same admin dept, because that's not turned up either.
Anyway, any fans wishing to complain should write to their local MP, or better still, Jeremy Corbyn, who has first hand experience of "phantom seating" issues.
Footage has emerged of Hammers fans, jumping into one of the many canals that surround the stadium after the Bournemouth game.
The irony was not lost on me that some West Ham performances have made me want to jump off a bridge too, although Bournemouth at home wouldn't have been one of them.
I'm sure Captain Gonzo, and 1st mate Geo would have been on hand to fish them out on their West Ham beer barges, so no harm done.
The number of people in the drink after the Astra game is still unknown.
As our Romanian friends came and conquered once again, those t-shirts that that club made to celebrate the Hammers on tour will be seen at a certain market in Peckham before the week is out.
When Ginger Pele is plucked from the bench to save a game up front, you know things are pretty grim.
Ashley Fletcher can hold his head up though, the one bright spark in an otherwise dull, dark evening.
Bilic has confirmed that Zaza was due to fly to London to finalize his move on the Friday, although I hear he was on his knees praying before take off.
He's not a nervous flyer, just more the case he was asking for a volcanic ash cloud or engine failure…..
On a serious note, its been another lacklustre week.
We bundled our way over the line vs 10-man Bournemouth, and the Astra debacle was another gem that will go straight into the West Ham history books.
The number of Chelsea, Spurs and Arsenal shirts on clear display on Thursday tells you this season will have its infuriating moments, but if you took 5/6 first team players out of any club in the league,most would struggle (Chelski and City aside).
The season doesn't feel it has started for us yet and probably won't until be get a good number of players back. Until then, for me, its almost like its damage limitation. Not ideal, but probably all Bilic can do at the minute.
When we have most of them back though, I think these dark days of disappointment will be a distant memory…