Marko Arnautovic wants £200,000-per-week to stay at West Ham, but  the £200,000 question is: Is he worth it?
There is little doubt that £200,000 this season is much like £100,000-per-week last season, given the crazy inflation of the transfer window.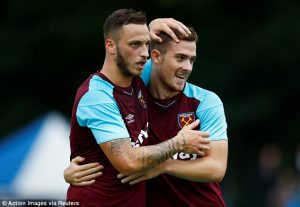 But for Arnautovic to warrant the Irons breaking their wage structure, he needs to prove that he has the ability of a pure goalscorer.
The very best clubs, for which Arnie professes to want to play, pay big money for strikers because they score 20 goals per season.
Look at Manchester United's Romelu Lukaku as an example. He scored 27 goals in all competitions last season, yet was still seen as inconsistent and lacking in a first touch.
Arnie has never scored more than 14 goals in a single season, and that came back in 2008-09, when he was playing for Dutch side FC Twente.
Alvaro Morata at Chelsea, another player widely regarded as something of a flop, topped that just last season, with 15. He has already scored five this time around, the same number as Arnautovic.
The long and short of it then, is this; if Arnautovic is to expect such a massive new contract, he simply has to start scoring more goals.
It was David Moyes who converted him into a natural striker, but he has yet to see the returns expected of such a player.
He may be keeping Javier Hernandez out of the team currently, but even Chicharito was hitting over 20 goals as recently as 2015-16, for Bayer Leverkusen.
Andy Carroll, too, hit 19 in one season for Newcastle United, before injury struck and cut him down in his prime.
And now, here we are, with Arnie demanding to be the highest-earner at a club where he is not even the most consistent goalscorer.
With games against Newcastle, Cardiff, Crystal Palace, Fulham and Watford coming up after the international break, he would do well to start hitting the back of the net soon, or risk being told where to take his demands!