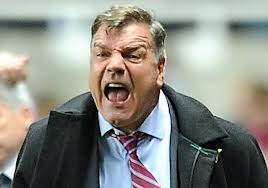 I would hate any of you to be deprived of your post match Allardyce fix so here it is!
The West Ham manager – well for now anyway – gave his post-match assessment of the 2-0 defeat of the game against Manchester City to the club website @ www.whufc.com .
Obviously, there were no dodgy decisions to be blamed for defeat and no referreing decisions to moan about so it was all a little bit tough for him.
But here for the last time this season – and hopefully EVER – is his assessment…in his own often cumbersome words!
"City have scored 61 goals at home and, with the quality they have, every single gem in their squad was out there playing, so we had to defend with everything we had.
"It's just a shame Adrian let the goal slip in. He got a full hand on it, but not a strong enough hand. Otherwise, we may have got in at half-time at nil-nil.
"On the other side, we didn't really cause them too many problems, which was a little disappointing. We did some really good defending, but then wasted a lot of good possession with our final ball and didn't create chances. To be fair, we weren't expecting many, but we were expecting a little better.
"Then of course the sickener was just after half-time when they got a goal off a corner which, when you look at it, was extremely lucky from Manchester City's point of view. It just bobbled around and fell to Vincent Kompany, who put it in.
"It was always going to be hard work to come back form that against such a great team, having only lost one game here. The lads put their best efforts in and tried as hard as they could but we finished the season not quite as high as we wanted to. For us, it's about re-grouping for next season and getting ready for pre-season training."
"In 2014 we have turned it around. We've won seven of our 15 games and if you tot that up over a full season, you can see what sort of season we would have had and that's similar to last year.
"We know one thing we're short of and which we've missed out on this year, apart from having to suffered from all the injuries which cost us results, is scoring goals. We didn't create many chances on Sunday, but when we have created chances we have not converted enough of them.
"Our focus is to be as good as we were defensively this season and to create more chances and be more clinical in front of goal. When we do that, we are fine, but on too many occasions we have suffered the negative effect of not turning our chances into goals.
"Two or three more one-nil wins and we'd have matched the 46 points we got last season, so it's very small margins of improvement that we need to do better."