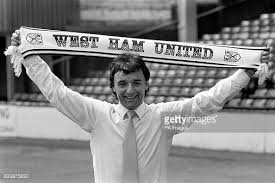 Moore Than Just A Podcast presenter Nigel Kahn tracked down former West Ham manager Lou Macari for a feature length interview to give his side of his short time managing West Ham.
Macari followed in the footsteps of John Lyall but was in charge of West Ham for just seven months and 28 matches – the shortest reign of any of the Club's permanent managers.
West Ham had been relegated to Division Two just prior to Macari's arrival, but it was events elsewhere that ultimately brought a premature end to his tenure in February 1990.
Allegations made by a Sunday newspaper regarding betting and illegal payments made to players at Swindon ultimately led Macari to resign on the morning of West Ham's Division Two fixture at his former club – with the manager reportedly not wishing to bring bad publicity to his new employers.
He signed the likes of Ludek Miklosko, Trevor Morley, Martin Allen and Ian Bishop who all joined the Club during Macari's reign.
Listen to the full interview at http://www.moorethanjustapodcast.co.uk