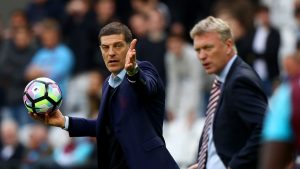 If David Moyes – as expected – becomes West Ham's 16th manager this week we should look at the positives in his long career rather than the negatives.
After all, Sir Alex Ferguson named the fellow Scotsman as his successor at Old Trafford which was always going to be a hard act to follow.
If we airbrush Real Sociedad and Sunderland out of his career then his management record stands up a 48.29% win rate at Preston North End followed by a 42.08% win rate at Everton and 52.92% win rate at Manchester United.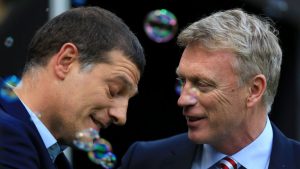 Over 504 matches at Goodison Park, he managed 1.52 Premier League points per game rising 1.73 league points per game at his 51 games in charge at Old Trafford.  Slaven Bilic average is 1.31 points per game at West Ham compared to 1.32 per game by Alan Curbishley and 1.31 per game by Harry Redknapp while at West Ham.
Only goal difference separated Everton from the bottom three in the Premier League when Moyes took charge in 2002. But after winning three of their first four matches under the former Preston boss, the Toffees would end the season in 15th place and avoid relegation by seven points.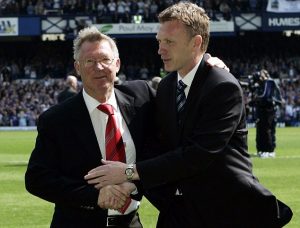 Few expected Moyes' Everton side to even reach the top 10 going into the 2004/05 campaign. But an incredible season saw Everton defy all odds and finish fourth, despite only signing Marcus Bent, Tim Cahill and James Beattie, as they gained a play-off place in the Champions League.
In 2009 Everton reached the FA Cup final against Chelsea after an impressive cup run, knocking out Premier League rivals Liverpool, Aston Villa, Middlesbrough and Manchester United.
A  defeat to Villarreal in the Champions League play-offs denied Everton a chance to compete with Europe's elite in 2005 but Moyes enjoyed Europa League runs in three of the four seasons that followed.
Their best European campaign came in 2007/08, when after sailing through the group stages with a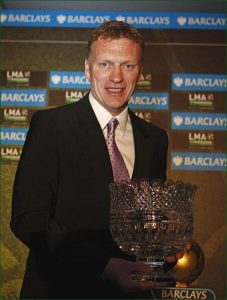 100 per cent record, they defeated Brann 8-1 on aggregate to set up a last 16 clash with Fiorentina.
Little was known of Wayne Rooney outside Merseyside when the 16-year-old made his debut against Spurs on the opening day of the 2002/03 season when Moyes gave the youngster his chance.
Moyes regularly promoted graduates of the Everton academy to the first team including Ross Barkley.
He had great success in the transfer market with names like Yakubu, Cahill,  Mikel Arteta, Marouane Fellaini, Leighton Baines, Phil Jagielka, Tim Howard, Sheamus Coleman and Joleon Lescott have also proven successful.
Moyes won the LMA (League Managers Association) manager of the year award in 2003, 2005 and 2009 a feat only surpassed by Sir Alex Ferguson who won it four times over.
After Arsene Wenger and Sir Alex Ferguson, Moyes hold the record for the longest-serving manager in the Premier with 4,082 days in charge at Everton over 11 years.
Moyes has achieved much in his management career, let's give him a chance to prove himself again!