ClaretandHugh subscriber chicagolimey has sent us his appraisal of David Moyes and presents a compelling case on behalf of the 52 year old Scot.
The views expressed here are his on and are not necessarily shared by ClaretandHugh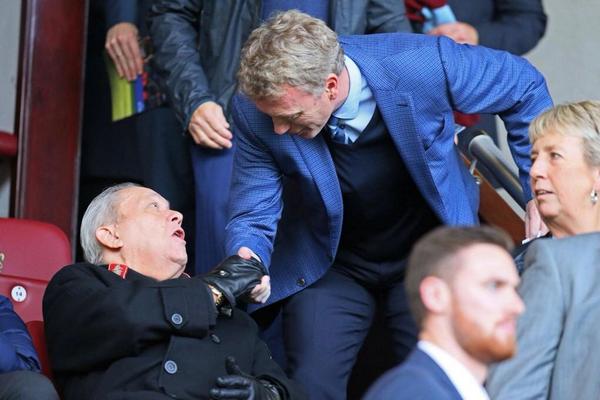 Since David Moyes emerged as the leading candidate to take over from Sam Allardyce there have been a lot of comments posted questioning his credentials.
However his career record makes a strong argument for his appointment, not only statistically, but especially if you consider the resources he has had at his disposal during most of his managerial career.
Starting at Preston North End he took over a team threatened by relegation from the old Second Division.  Within a couple of years he took them to the verge of the Premier League with an impressive win percentage over that period of 48.29 pc.
He was only in his thirties and his achievements at Preston were not dissimilar to those achieved by Eddie Howe has just pulled off at Bournemouth.
He was at Everton for eleven years -a near unbelievable amount of time in PL management – and turned them from relegation candidates into regular top eight finishers with several European qualifications.
He maintained a win percentage of 42% which is phenomenal over such a length of time.  He didn't win any silverware but without the backing of an oligarch or the launch pad of a huge stadium that's a tough nut to crack.
Here's the interesting statistic.  During his one season at at Man United  he took over a lot of stubborn, seasoned pros who were stuck in the Ferguson way of doing things and was arguably never given time to prove himself or turn it into the club he wanted.
Why do I say this?  Well, after Ferguson took over from Ron Atkinson in November of 1986, he guided Man U to none  losses (29%), 10 draws (32.3%) and 12 wins (38.7%) over the remaining 31 games of the 86/87 season.  I remember there were big questions being asked about him at that time.
Moyes achieved a 52.9% win rate during his first season at Old Trafford but because of the demand for instant success within today's top five or six he was unceremoniously dumped.
Since leaving United he has guided Real Sociedad -another relegation threatened outfit into a unit that has slowly begun to establish mid table status… all this with limited language skills an d a limited budget.
Remember we are talking about one of the world's toughest leagues here and just to beat Barcelona 1-0 during the process is impressive.
He is a passionate hard-nosed Scot who will demand a lot more fight than Sam.  Sure, his football is not the prettiest but if he produces the wins, the manner in which he does it will not seem so important as they do at the moment.
He is only 52 years old still and is only surpassed in PL wins by Ferguson, Wenger and Redknapp.  If he's available maybe he could be just the man we need to take us into the Olympic Stadium after all.