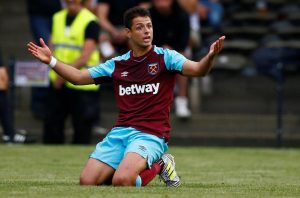 Javier Hernandes has yet to find his natural place in a team with Andy Carroll so our Claret and Hugh poll today asks the question where should he be played.
Should he be played on the left? Should he be played in the centre of attack? Or should we trust our manager to play him in which position he sees fit?
Bilic believes it is "almost impossible" to partner Andy Carroll and Javier "Chicharito" Hernandez in attack.
"It is almost impossible. It is very hard to put them in their ideal positions as two strikers, which looks good on paper," Bilic told reporters. "But you want to have a lot of (of your best players) on the pitch at the same time.
"Of course I'm thinking about that. Chicharito is playing in a position which is not his position. I spoke with him, he's a great lad… he's doing a job of course."
Bilic has previously reacted to criticism that he playing Chicharito on the wide left telling reporters he is not wide, wide he is just off Andy Carroll to the left.