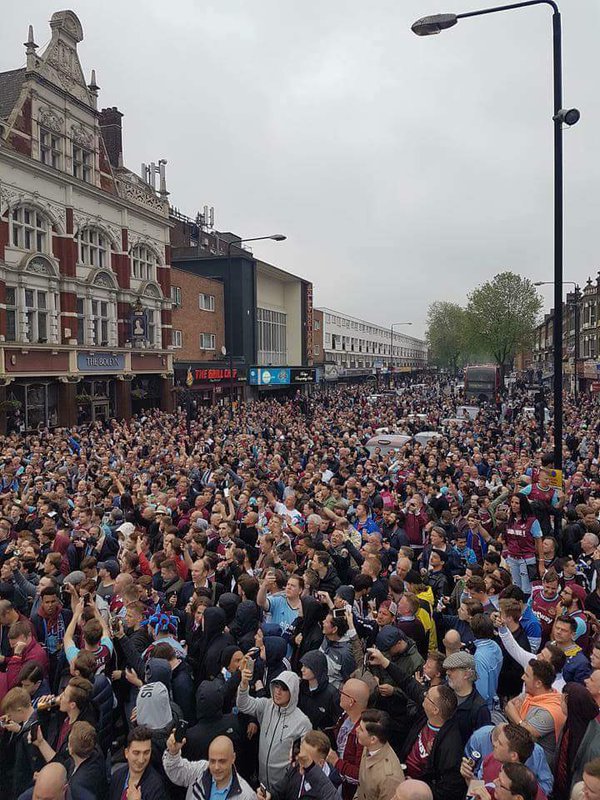 While the Manchester United team coach incident grabs all the headlines today, little has been said about the dangerous crush along Green Street before kick-off with many supporters fearing for their safety on the last day outside the Boleyn Ground.
By Tuesday lunchtime, several hundred fans had already made their way to Green Street, by 4pm this had grown to many thousands and by 5.30pm Green street was completely packed just like five minutes before kick off on a normal match day. To make matters worst supporters without tickets had also travelled to the Green Street area to soak up the last day atmosphere.
Gates for the Boleyn Ground didn't open until 6.15pm and Green Street quickly become gridlocked and rammed with people before 6pm. The police parked multiple vehicles in the middle of Green street which caused further problems and funneled supporters into tighter and tighter spaces.
One person caught up in the Green Street crush was the father of West Ham's in-house DJ and friend of Claret and Hugh, DJ Leon Hyde. His dad Roland was pictured on Sky Sports News (below) receiving medical attention from the Police after getting crushed in Green Street and we have been told this was not an isolated incident.
West Ham fan Lee on twitter said "Met Police got it all wrong last night. Causing a massive crush on Green street trying to get the coach in. Kids were scared shitless"
John Ewan said "Alot of fans arrived early. I got there around same time & thought crush was caused by police vans blocking Green Street"
Mark Gurney said: "The crush was really bad mainly due to the police for parking so many wagons along the middle of Green Street."
Peter Richardson said "Police vehicles created the Green Street crush which could have turned nasty with fans being told to turn back."
Another twitter user by the name of Labroadley said "No mention of the poor police control down green Street beforehand/afterwards or the crush after the bus reversed back?"
Seeing my dad on SSN tonight been taking not well after the crap outside thanks to WH security Simon helping him pic.twitter.com/NEeWoAGuHB

— ⚒ DJ Leon ⚒ (@djleon1983) May 11, 2016