ClaretandHugh blogger Mike Miller last week looked at the West Brom and Stoke City squads to see of there were any bargains available for the Hammers. Today he concludes with a look over Swansea's squad following their relegation
Key – in bold the players I like and would go for
**   – I fancy them but we've got little chance of getting them!
++ – I fancy them and get the chequebook out!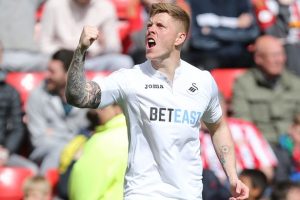 Lucasz Fabianski (33)(++) Polish International Keeper signed from Arsenal in 2014, he had 7 years at Arsenal only making 32 appearances, spending most of his time as back-up to Almunia and the Szczesny – since joining Swansea his keeping has received a lot of praise. Possible back-up?
Mike van Der Hoorn (25) Dutch Under-21 International. Big central defender, whose made thirty-odd appearances in 2 years, but has become a regular this season.
Alfie Mawson (24)(**) English Central Defender signed from Barnsley for £5 million. One of the few who have come out of this campaign with any credit. Sure to be in demand by 'bigger' clubs – form a queue!
Martin Olsson (29) Swedish International Left Back (one of twins with his brother Marcus who plays for Derby) – Martin Olsson has played for Blackburn and Norwich as well as Swansea. West Ham have been linked with several times but nothing has come of it. Not very impressive this year, but having a left foot is a real asset.
Kyle Naughton (29) English right-back and defender. Originally joined Tottenham from Sheffield United in the same deal which took Kyle Walker to Spurs. Kyle Naughton was always in the shadow of Kyle Walker and never really held down a First Team spot. On joining Swansea he established himself as first choice Right Back but missed the 2014-15 season with ankle ligament damage. Regular, but not outstanding.
Ki Sung-Yeung (29)(++) South Korean Midfielder and Captain – Central Midfielder – signed from Celtic in 2012. West Ham were apparently close to signing him in January as part of the Andre Ayew deal but it never materialised. A good player.
Leroy Fer (28) Dutch International Midfielder – combatative player who suffered an Achilles Tendon Rupture in February 2018. Shame.
Wilfred Bony (29) Ivory Coast International – centre forward signed from Man City – suffered a Cruciate Ligament tear in the same game that Leroy Fer was injured in February – probably where their Season went wrong. A great shame for both players.
Luciano Narsingh (27) Dutch International winger signed from PSV in January. Not really established himself.
Nathan Dyer (30) English winger – long-serving player who ruptured an Achilles Tendon last season. Has struggled to get back.
Tom Carroll (25) English midfielder – limited appearances at Tottenham followed by numerous loans a regular at Swansea this season. Umm!
Wayne Routledge (33) English midfielder – loads of Clubs and loans – good player but time is running out maybe!
Sam Clucas (27)(++) English midfielder – big money signing from Hull (£16.5 million – blimey!) – ginger-haired terrier – worth a real look – possible bargain!
Andy King (29) Welsh International midfielder on loan from Leicester – bit-part player?
Tammy Abraham (20) English Striker – on loan from Chelsea, big reputation but not impressive against West Ham this year – not for me!
Jordan Ayew (26) French born but playing for Ghana – forward cum striker – temperamental and fiery – the Ayew brother we should have signed – but again not for me!
Andre Ayew (28) Fench born but playing for Ghana – last and definitely least – useless waste of space, dubbed 'the Invisible Man' at West Ham, he was on the pitch but never seemed to do anything but sweat profusely (and score the odd goal – somehow!) – not scored for Swansea in 11 appearances – real coup offloading him in January although selling him to a direct rival for Relegation didn't seem the smartest move at the time! Funny how things turn out – ain't it!