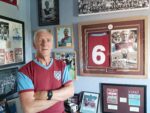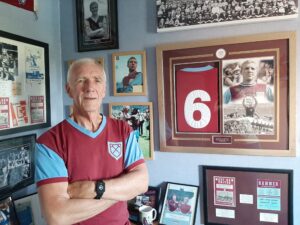 By CandH's top blogger Allen Cummings
Like a couple of thousand other West Ham fans I'll be making my way on Saturday to watch my beloved Hammers take on Crystal Palace in a New Year's Day London derby.
Selhurst Park isn't my favourite venue. The ground is old and dated – the view can be obscured by annoying upright roof supports, the seats are cramped and uncomfortable, the bar area is likewise and the toilet facilities are a throwback to the 60's.
But despite all that the place does hold one of my most vivid memories of following my team away – a day and a place that remains fresh in my mind as if it were yesterday.
The year was 1971 – a bright, sunlit day in October – and the introduction to, and performance of, a slip of a lad by the name of Ade Coker.
Not too many of us had heard of Coker before that day when he made his first team debut – by the end of the 90 minutes the 17 year old was the talk of the town.
Coker was only told by Ron Greenwood he was playing an hour before kick-off – as the injury replacement for none other than World Cup winner and West Ham legend Geoff Hurst. Not too much of an act to follow then.
West Ham lined up in my favourite all blue strip with the two claret hoops across the chest. Coker who probably wasn't much taller than 5'2 was alongside our massive Bermudian Clyde Best – a real little-and-large pairing.
But within seven minutes Ade had written his name into the history books as one of a select few Hammers to score on his first team debut. It was the first of three West Ham goals – without reply – on the day – sealing a comfortable victory for the team.
Coker enjoyed the game of his life. His jinking runs and twinkle-toed ball skills delighting us travelling fans – and later the following day the pundits and viewers on the Big Match.
We were all expecting great things from the little Nigerian but sadly it didn't work out that way. Coker took Palace by surprise that day – but the big, no nonsense defenders of that 70's era soon caught on to him, the physicality of the game took over and the youngster just couldn't cope.
As Clyde Best once reflected: "If Ade was playing today he would be a big name in the game because he had everything." Sadly he arrived before his time."
We might not have seen as much of Ade Coker as we'd have liked – but I'll always remember that day at Selhurst Park with great affection.
I'm not expecting a similar surprise West Ham debutant on Saturday – although in these unpredictable Covid times you never know.
I'll be more than happy to settle for a repeat of our performance against Watford on Tuesday – with the team performing in the manner they did at Vicarage Road – and three more valuable points being added to our already impressive tally.