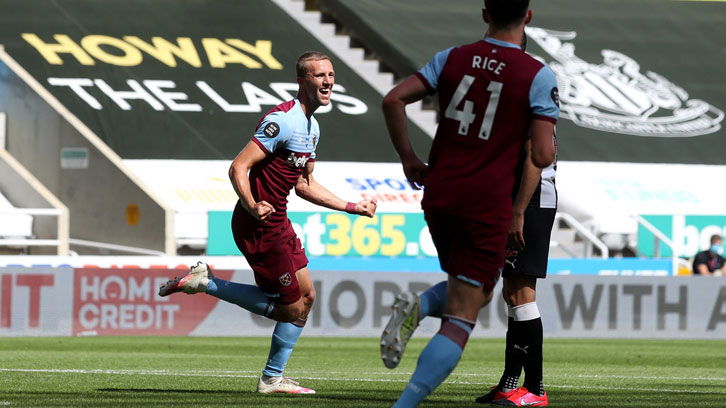 Regular readers of ClaretandHugh will know I have become a huge fan – probably like most – of Tomas Soucek.
I believe he is everything we have needed for a long time and with Jarrod Bowen is the first light of a new dawn for the Irons.
He makes doing both the simple and difficult things look very easy and as Mark Noble comes towards the end of a distinguished career,  Soucek is everything we have needed for a very long time.
The Premier League is about pace, pace and more pace and it surely hasn't escaped anyone's  notice that this guy can get up and down very quickly indeed.
He defends midfield alongside Declan superbly but will then be seen turning up in the penalty area where over two games he has scored two goals.
In terms of box to box midfielders this guy has it all and – assuming safety – the £16 million the club owe to make the deal permanent under a pre-arranged deal with Sparta Prague may be best value for money fee they have paid in years.
Declan himself is clearly enjoying playing alongside him and, given the Moyes statement that he still has much to learn, looks to have found an ideal mentor  in Tomas.
It may, and perhaps should, be sufficient reason for him to remain at the Hammers and learn from a guy who is, for me, a master of his craft.
Soucek himself, admits he  is in a very good place with the club declaring at https://www.whufc.com/news/articles/2020/july/07-july/tomas-soucek-i-feel-settled-west-ham-united-team: "I feel very good because now, after a long time [away from the team during lockdown] I feel settled into the team and the changing room so I feel great around the guys, my teammates, and now I think I have more space on the pitch so I am happy here.
"I scored many times in the Czech League or Champions League with Slavia Prague and I wanted to score here, but in the first few games I couldn't score, so now it's great for me and I'm happy I could help my team."
"It was 2-2, but I think we deserved more points. Now we need to concentrate on the next game.
"We have scored five goals in two games, which is a good number, but the other team has scored four goals, which is too much. When we scored to go 2-1 up, we needed to concentrate more and get into our shape, but within 30 seconds we were back at 2-2. It was a bad moment, because when they got back to 2-2 they hadn't had any chances and we could have scored many goals, so we need to concentrate better in the next game."
He concluded: "We need now to take three points at home and I believe in my team so I believe we can take three points [against Burnley], then we will go to Norwich and we will play very good, very well, and we will take the points there too."