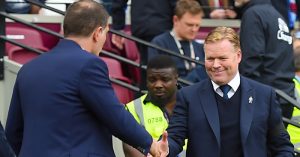 Ronald Koeman has been ruled out as a replacement for Slaven Bilic.
The Dutchman has been mentioned regularly as a possible caretaker boss but his Sgt Major reputation and "patchy" record in Holland is working against him.
There were many stories that his departure at Everton was as a result of serious tensions between him and the squad and the view inside the London Stadium is that such a move could be a 'frying pan to fire' situation .
He is one of the very few available managers at the moment but his record shows that he tends to be a club hopper, apart from a three year stay at Feyenoord between 2011-2014.
The former Barcelona assistant left Benfica a year before his contract was up to join PSV before being sacked from Valencia and moving on to short stays at AC, then Feyenoord, Southampton and Everton where of course he was sacked again.
Some may argue that a tough guy is required in the Irons dressing room right now but it is not a gamble the club are ready to take at this stage.