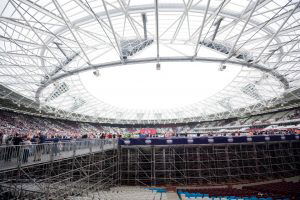 A report presented to the London Legacy Development Corporation (LLDC) Investment Committee on 9th May shows the real depth of losses being racked up by the London Stadium public body owners.
The LLDC  March 2017 Management Accounts which can be found here shows the public body spent £35.54m on the London Stadium in the financial year ending 31st March 2017 against their original budget of just £7.58m, a massive £27.95m overspend.
The financial figures reveal they spent £1.32m in the month of March alone against a budget forecast of just £26,000.
A separate section of the report claims income from the London Stadium of £62,000 for the month of March and £340,000 for the whole year. These are likely to be sums paid by the operators to the owners but they totally dwarfed and wiped out by the massive losses occurred.
Newham council recently revealed under Freedom of Information that Newham Legacy Investments Limited who borrowed £40m from the council and part own the stadium with LLDC have yet to make a repayment back to the council.