I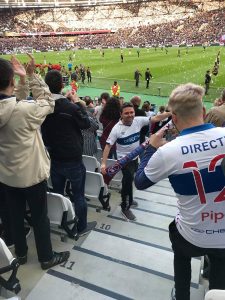 have come under a lot of criticism when I published a photo of a foreign football fan at the London Stadium wearing his team's football shirt and having his photo taken with a half and half scarf on Twitter for suggesting he should have thrown out for the possession of a half and half scarf alone.
Those who go to the London Stadium regularly will know it has become a mecca for tourists wanting to watch a game of Premier League football, they are not particularly West Ham fans but often fans of football in general but sometimes supporting of the rival team.
Supporters are split on the subject of tourists, some believe that wearing any non-West Ham football shirt in the home should not be allowed while others say we should encourage it and leave them be.
The problem for me is how rules are enforced by stewards, do we just ban opposition shirts for the match on the day in question? Do we ban all rival Premier League shirts?, How about Championship or Leagues 1 & 2?  Are non-league shirt allowed?  Are foreign shirts allowed? If so does that include Scottish teams as well? It is minefield!
It is an extremely difficult one to call and the London Stadium stewards aren't the brightest bunch out there when it comes to decision making at the best of times.  If tourists are going to be part of West Ham's future maybe there should be a neutral area at the London Stadium for them to take selfies and wave their half and half scarves together.