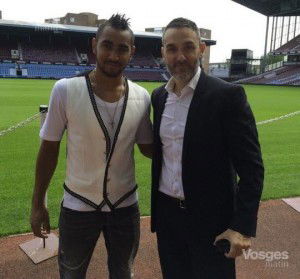 Jacques-Olivier Auguste is the mystery French man who Payet trusts to make all his career decisions and will be at heart of today's revelation.
The football agent from the Vosges mountain region of France first met Payet in 2007 while he played for Nantes. When Nantes were relegated in 2007, Payet was persuaded by Auguste to hand in a transfer request and then arranged a £3m transfer to St Etienne on a four-year deal.
While at St Etienne Payet refused to train with the team and travelled to Paris unauthorised on transfer deadline day in an attempt to force a move to PSG in yet another deal set-up by his agent.
Auguste would later land a 200,000 Euro per month salary for Payet at Marseille in a four-year contract and more recently renegotiated the £125,000 per week package five-year contract for his client at West Ham.
Auguste graduated with a law degree before deciding to become a licensed sports agent. He first became became a sports agent in basketball in 2003 then International rugby before finally getting into football as an agent for his most famous client Payet.
If there is someone whispering in Payet's ear and turning his head it is likely to be this man.