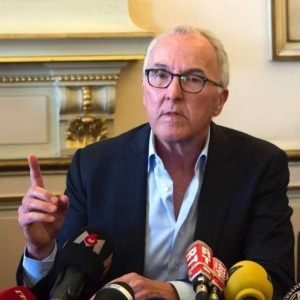 This is the face of the American billionaire who holds Payet's future in his hands.
His name is Frank McCourt, the new owner of Marseille who sold the US baseball team, The LA Dodgers for £1.5 billion in 2012.
In 2004 the former property developer bought the LA dodgers from Rupert Murdoch and News Corp although he had to borrow heavily to afford the $430m price tag. On selling the baseball team he paid his wife of 30 years $131m in a divorce settlement.
In August 2016 he purchased Marseille on the cheap for £34m but promised to invest £40-80m per year in new players over the next four years to build up Marseille.
So far he hasn't lived up to his big talk and hasn't spend anywhere near the sums he promised the Marseille fans.
The US billionaire has a net worth is almost £1 billion so could easily afford West Ham's £30m asking price to show intent of Marseille.
This morning the Daily Mirror repeated rumours that Payet wants to return to France for the sake of his marriage and also because he wants his three kids to grow up in France. If true that limits the choices of clubs he would be prepared to join.
Mr McCourt needs to put his money where his mouth is and pay West Ham the asking price of which the majority needs to be up front without obscure add ons clauses or paying over five years.
The Hammers themselves are still thought to owe several million to Marseille from the original £10.7m deal which saw him join in 2015. This debt would form part of the deal.