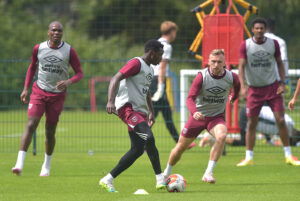 Football agent Alex Bell from agency Playerworks is the man with Jeremy Ngakia's future in his hands.
On the Player Works website, it says Alex comes from a sporting background, being a strong figure in horse racing – with his father training the 2005 Derby winner, Motivator.  Alex has previously managed his own successful sports company, and is one of Playerworks CSM's registered intermediaries.
Bell has worked with Player Works for nearly seven years, before that working for the Stella Group as a marketing assistant
He has a Bachelor of Arts from Newcastle University for Business, Management and Marketing.
London based agency PlayerWorks was founded by David Dixon who is the managing director.
Other agents working for the outfit included George Shelvey brother of Premier League player Jonjo.
Fellow 19-year-old Bernardo Rosa from the West Ham academy is also on Playerworks books.
Ngakia's contract expires on 30th June in just twelve days time and it remains to be seen whether there will be any last-minute change of heart.