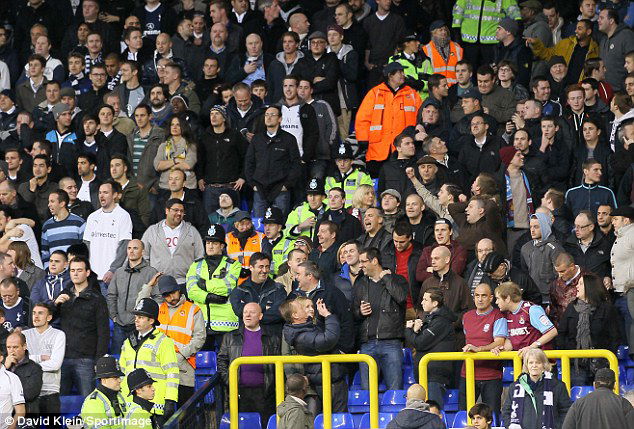 By Sean Whetstone
West Ham hatred of Spurs is quite a modern phenomenon with our original deadly rivals being Millwall of course – the initial feud over the dockers that worked either side of the Thames who broke strikes.
West Ham and Millwall were last in the same division in the 2011/2012 season and it is a case of out of sight, out of mind.
Spurs and West Ham's predecessors,  Thames Iron Works first played in 1898 and have met 215 times since.
Being a London team they are rivals like Chelsea, Arsenal and Crystal Palace but it goes much deeper than that.
Geographically Arsenal's Emirates Stadium is closer to the London Stadium but it is the away visit to White Hart Lane that West Ham fans look forward to from a time when supporters could watch games in person.
Part of the dislike is the delusions of grandeur that Spurs fans suffer from believing that they are a big club when, like West Ham, they haven't won anything of note for years.
West Ham has got used to spoiling Spurs parties taking particular enjoyment from that one famous Lasagna-Gate game in 2006 when a Hammers victory forced Spurs to miss out on a Champions League place which their North London rivals grabbed instead.
Spurs Chairman Daniel Levy is also disliked by West Ham, partly his arrogance in refusing to do business including personally vetoing a loan for Emmanuel Adebayor in 2015,  But on another occasion, private investigators hired by the club illegally obtained Karen Brady's itemised phone bills.
Spurs at the time wanted to knock down the London 2012 Olympic Stadium and move from White Hart Lane causing the first tender won by the Hammers to be abandoned.
In 2013 the Hammers famously put Spurs firmly n their place by winning a treble in the Premier League and cup in the 2013/2014 season.
In 2019 West Ham made history by becoming the first team to beat Spurs at their new White Hart Lane stadium breaking their home unbroken run thanks to Michail Antonio goal.
In October last year, West Ham were 3-0 down within 30 minutes only to come back to make it 3-3 thanks to a Manuel Lanzini wonder goal, thank one hurt the North London fans too!
Spurs fans would have you believe that the hatred is one way from the West Ham side, I don't believe them, I think we continue to get under their skin because they really are not that much better than us when it comes to winning things.
The dislike is very much a two-way affair