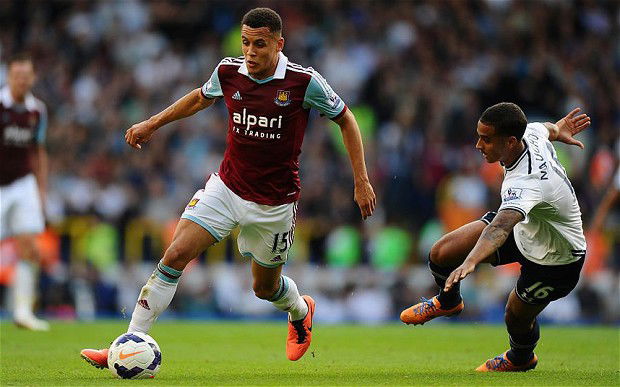 By Hugh Southon
Predictions are so dangerous game in January so instead of asking whether Ravel Morrison will leave which remains very possible  the real question may be – WHERE TO?
We've brought you regular reports where it's been utterly impossible to explain fully what may be going on behind the scenes at Upton Park in this ongoing soap opera.
But it's fair to say that the rumours concerning his alleged difficulties with the manager have surfaced a little too regularly not to be treated with concern.
Then there was the groin injury which appears to have come from almost nowhere and ruled him out for Christmas, and once the League programme re-started he became unavailable with a recurrence of the problem.
You could almost hear the collective "Hmmm" right across the east end and I have to say, understandably so.
I don't like coincidences particularly when several of them appear to collide as the transfer window reopens as players who may be on the move are keen to remain fit for that purpose.
And it has to be said that it's a fact throughout the game that 'groin problems' are the most usually mentioned problem in those circumstances – not easy to diagnose.
Anyone who saw the lad against Nottingham Forest would have raised an eyebrow over the fact that he appeared reluctant to pass  the ball and gave a very good impression of a man playing for the wonder goal which would again put his name in the headlines!
There have of course  been regular reports that Fulham are keen and that he wants to go there. However,  I'd be utterly amazed if that's true!
Why would a guy  swap one relegation scrap for another when the whole point is to advance his career not watch it stand still or slide backwards. West Ham is a much bigger and sexier club anyway.
Now here comes the problem – exactly who is going to buy a player whom I have absolutely no doubt the club will sell if the right offer of between £7-£10 million comes in.
Given all the alleged problems emerging in the background,  now looks like the time the club would indeed  make a decision to let him go.
Because of Rav's Manchester history and the company he allegedly kept up there, it's a cert that he won't be returning to either United or getting a move to City!
He's hardly likely to be sent back there by a cute agency team which were at the root of all his problems. Liverpool and Everton are not options because they are too close to the place.
Newcastle are keen and are far enough north but will they cough up? Chelsea have midfielders coming out of their ears and his abilities could get swamped over there whilst Arsenal would present the same dilemma.
Southampton could be interested although if so one would have expected them to be discussing the possibility at the time we were interested in Rickie Lambert.
Spurs could be too  although Tim Sherwood's position seemingly remains  probationary and one wonders how far he will be trusted with funds.
It's hugely unlikely that Rac's  temperament is suited to a move abroad at this stage and then there's the  whole issue of managing a player on whom Sir Alex Ferguson gave up and with whom Sam Allardyce may now be having his  difficulties.
Interesting times – we'll keep you informed through the window.