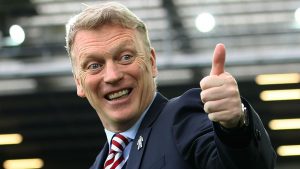 David Moyes was not an entirely happy man at the end of today's draw at St James' park but is seeing the sort of improvement which is putting confidence into the players and fans.
The change from the opening games has been pretty dramatic in Hammers terms with four points and five goals but the four points should really have been six.
Now it's on to the Burnley match on Wednesday evening -a game that gives us a great opportunity of making a giant step towards safety.
The pleasant reality for the manager is too that on the wide right he is suddenly spoilt for choice between the highly in form Jarrod Bowen and impact sub Andriy Yarmolenko who is responding to the competition on that side in exactly the right way.
Moyes assessment that the Irons probably finished the better team this afternoon is about right and at last there's a spring in the step of players and supporters as we prepare for the rest of the campaign.
And speaking after the game at https://www.whufc.com/news/articles/2020/july/05-july/david-moyes-were-picking-points-must-tighten Moyes said: "I think when we look back, we'll probably think we're disappointed after getting in front a couple of times, certainly the second time to concede a goal so quickly
"By the end we probably were the team who had played the better – we got two or three chances near the end of the game. 
"You've got to remember Newcastle are in-form, and they've showed really good form so far this season. I thought they played well in the first half and made it difficult for us in lots of ways, but all credit to the players.
The players stuck at it. A point wasn't the worst result, but I think we'll all feel that there was a chance here to take three.
"The players are in good spirits. We played well in midweek and had a great win against Chelsea, and we came here today and did okay. I'm disappointed that we didn't defend better at the times which really mattered.
"We've started to find the net a few times and probably could've done a few more times today, but ultimately, we've got to stop conceding if we're going to win games."
One player who once again impressed off the bench was Ukrainian Andriy Yarmolenko, who came close to winning the game late on – as he did against Chelsea – with a venomous 25-yard strike, beaten over by Newcastle's Martin Dubravka.
"He could easily start," Moyes said of the Ukrainian, "it's just with the form of Jarrod Bowen. Jarrod made the first goal today and has been involved.
"Jarrod's form has been very good as well and they play in a similar position. We've got two very good players – Yarmolenko's a very talented player."
"This was a huge game, because we've come through a really difficult period of games prior to the lockdown and also when we've come back," Moyes added. 
"We've picked up some points. We see these games as opportunities to get something on the board, but we have to prove it on the pitch, and we'll go into the next game against Burnley on Wednesday and try and see what we can get from that game as well."