It's sometimes rare to feel sympathy for a subbed player and the one who replaces him but I did last night.
Once David Moyes decided to replace  a player it was odds on Nikoloa Vlasic would be the one and in my view he didn't deserve it.
Having played on the right side he looked much better than we have seen previously despite an unfortunate headed effort that was saved by the goalkeeper Bono.
Earlier he had been making things happening but was seeing enough of the ball to make the impression of which he was looking capable.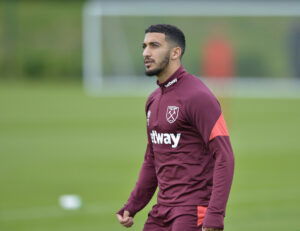 As pointed out by CandH website follower Blimeyblimey statistically he had twice as many shots on target as the rest of the team combined
According to the Pro-stats, Vlasic, Fornals, Lanzini Benrahma ad Antonio were all within 0.2 of each other so maybe some need to get off his back.
So I felt for him as he was subbed again as I did for Benrahma when he appeared whom I have been particularly tough on over recent days.
However, he too made a real difference  and set up the chance for the best Hammers chance of the evening with Lanzini's close range effort being brilliantly blocked.
There were other top moments from him too but the major enjoyment was watching Vlasic start to show what he's got.
Find our shooting boots next Thursday and we remain very much in the tie.