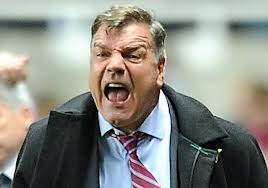 It's hard to discuss West Ham's disappointing draw at Goodison Park last night without looking at Kevin Nolan in particular and the manager's uncalled for criticism of Enner Valencia.
To concede in the 92nd minute is – as Allardyce claimed – deeply disappointing but frankly I can't help feeling that to blame Valencia in particular is showing us more than a bit of the old Sam.
Did he level anything at Morgan Amalfitano when blasting over…has he ever criticised Andy Carroll for missed chances? Answers to both questions are a resounding No!
Allardyce has a track record of singling out individuals, officials or any other handy excuse as a reason for failure.
And it's really not nice to see Valencia get such treatment given that he has had few games of any consequence since the return of AC.
He was excellent against Chelsea with some fine runs to take the pressure off an over-stressed defence before being immediately dropped for the next match.
Had Sam criticised his captain Kevin Nolan for perhaps his worst ever performance in a West Ham shirt it would have been a little more understandable although unacceptable.
Public criticism is poor in any circumstances but when used  as an excuse for failure it is totally unacceptable.
Having said all of that I arrive at my verdict on last night's match. We drew only because the defence switched off when it mattered and because the manager adopted a safety first policy far too early!
Carlton Cole for Enner Valencia? REALLY! Defensive midfielder Diego Poyet for an offensive one – Matt Jarvis – a massive NO! And Joey O'Brien for Morgan Amalfatino – What?
And the 90 minute presence of Nolan who offered absolutely nothing at any stage – OH COME ON!
The absence of Andy Carroll saw us playing some of our best and most mobile football since earlier in the season and Mark Noble was excellent on his return.
But the substitutions  were obviously designed to help us hang on – well that didn't work Sam did it? That – along with Nolan's 90 minute presence – were the reasons this game was allowed to slip away.
It's now four games without a win as we head for Swansea  and unless we quickly return to the free flowing game which thrilled us at the start of the season I believe we are heading for a very lean spell of results.
As for Nolan ? Sam Allardyce has some hard thinking to do now and a big decision – in his terms anyway – to make!
We should be contemplating a fourth round FA Cup tie this afternoon. It's not Enner Valencia's fault we aren't. I think I know where the blame really lies.