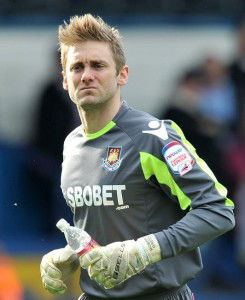 Former Hammers keeper will return to the Boleyn Ground pitch for the first time since leaving the club in June 2012 after failing to agree to sign a new contract.
The last time the two sides met in January 2013, Green stayed  firmly on the subs bench as Julio Cesar was preferred as first choice keeper for QPR at that time.
The previous match at Lotus Road in November 2012 he was also an unused substitute when goals from Jarvis and Vaz Te helped the Hammers to a 2-1 away win. On that evening Robert Green came in for lots of banter from Hammers fans about England's number six sitting on the bench collecting splinters.
There has been a lot of water under the bridge since those games and I am hoping Greeno gets a great reception from West Ham fans on Sunday. He used to have a great relationship with the West Ham crowd, particularly the Sir Trevor Brooking Lower and I believe they are ready to forgive and forget and welcome him back as they do other many other Hammers who served their club well over the years.
The 6ft 3in keeper who won 12 England senior caps, started his career at Norwich before joining West Ham in 2006 for £2m where he went on to make 241 appearances for the Hammers over six years.