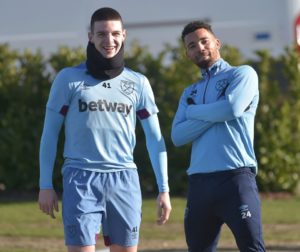 Ryan Fredericks has given an insight into the secret behind Declan Rice's success and it can be summed up in one word- humility.
It's been many years since a Hammer attracted relentlessly positive headlines and accolades – a joyful experience given the negativity we have often had to suffer from the media.
Instead we see one of our own being feted on an almost daily basis yet nothing appears to turn the lad's head and at 20 that's pretty impressive.
Most people inside the club will explain that money has never been Declan's motivator.
With him it's all about playing regular first team football and improving on a match by match basis.
And his old school approach has now paid off in spades as he takes his place on the international stage with many believing he will follow Bobby Moore as England captain one day.
Fredericks watches him every day and speaking to www.whufc.com said: "I think from the start of the season he's probably been our best player, our most consistent player.
He trains great every day and he's a good lad too – humble, even though he's getting all these accolades, so credit to him and I wish him all the best.
"He's only 20, so there's so much room for him to improve. He's at the right club to improve, under the right manager, and all the boys want the best for him, so he's going to be special.
"Getting called up won't change him, definitely not. He's signed new deals and things like that but he still drives the same car, he still lives at home with his parents.
He's not flash or anything like that, so that's probably why everyone's so happy for him as well."