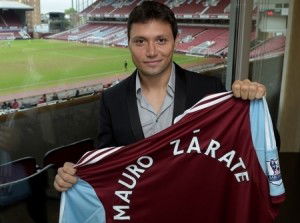 Mauro Zarate has become the 15th South American to join the Hammers in the last 16 years.
But the big question is whether the £40,00 a week Argentine can succeeed where by and large the other 14 have failed.
Here's our roll of Latin misfortune:
Javier Margas: Signed after the 1998 World Cup, made 24 appearances scoring once before  going AWOL claiming homesickness.  
Maurico Taricco: Cancelled his contract with the club after tearing a hamstring..  
Lionel Scaloni was a defender who managed 13 appearances in 2006 and was blamed by some for the 2006 FA Cup Final defeat against Liverpool.
Carlos Tevez/ Javier Mascherano. Mascherano rarely featured in the team and left in 2007. Tevez went on to score some important goals for us but landed us a £5.5m fine and £25m in out of court settlement with Sheffield United.   
Nobby Solano left  when his contract expired at the end of his contract   having scored four goals in 23 appearances. 
 Walter Lopez was the seventh to pull on a Hammers shirt, failed to cement a place in the first team due to the presence of Ilunga and was subsequently released by West Ham at the end of the  season.
Luis Jimenez signed on a one year loan with an option to purchase, made 11 appearances for one goal.
Guillermo Franco. was released after 23 appearances and five goals.
Ilan  made 11 appearances as a six month loanee, scored four goals before being released after criticising Zola.
Cristano Montano never played a game in the first team but joined West Ham Academy as an under 11. He was released in 2012 but has since been accused of match fixing and charge with rape of a women at Romford while a West Ham player.  
Brian Montenegro joined on a one season loan in 2011. He made one appearance an the FA cup third round never to be used again and returned to Paraguay.
Wellington Paulista never pulled on a West Ham first team shirt, leaving  after his six month loan expired.
Pablo Armero signed on a six month loan from Napoli but despite talk of a permanent deal returned to his parent club at the end of last season after five appearances.