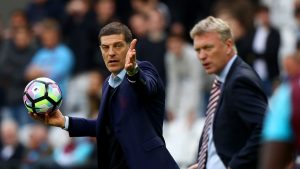 Today we run a straightforward Claret and Hugh poll with just two options, do you want David Moyes to take over managing West Ham or given the option would you prefer to stick with Slaven Bilic .
Moyes has managed three Premier League clubs in Everton, Manchester United and Sunderland. Over 504 matches at Goodison park, he managed 1.52 Premier League points per game rising 1.73 league points per game at his 51 games in charge at Old Trafford.  He dropped down to a dismal 0.72 points per game with the Black Cats which saw them relegated.
Slaven Bilic has 1.43 Premier League points per game at West Ham over 109 games.