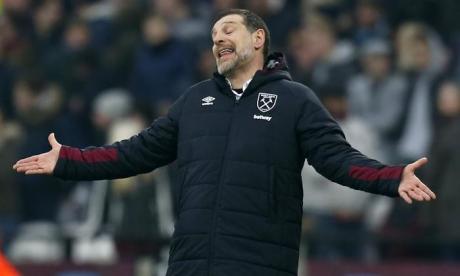 Guest post by Karl Bromley
"Slip slidin' away / Slip slidin' away / You know the nearer your destination / The more you're slip slidin' away."
Folk artist Paul Simon sang it way back in 1977 on his hit song "Slip Slidin' Away", but such desperate words could double as an anthem for West Ham's performances this season as they slip and slide down the Premier League table to a destination in the lower quarter.
After more than a century at the friendly confines of Boleyn Ground, the new tenants of London Stadium seem to be mired in under performing personnel and a prolonged adjustment to their new turf as the 2016-17 campaign storms on.
Head coach Slaven Bilic has to be considered at the center of any personnel controversy. The second year chief is struggling to match his side's performance of a year ago when the Irons picked up 62 points and a seventh place finish.
An increasingly loud chorus is calling for the the 48-year-old Croatian to be ousted, but talkSPORT has confirmed he isn't going anywhere. Bilic will need to garner more fan support going forward while demonstrating the side is unified behind his grasp on the reigns.
Speaking of fan support, the Irons must find a way to convincingly make London Stadium their own. In other words, they desperately need to post big wins on the home pitch. With the fifth worst record this season, West Ham haven't given the crowds much to cheer about and London Stadium has been eerily quiet as a result. Apparently, the shippers neglected to deliver the raucous carnival atmosphere that once inhabited Upton Park.
Injuries have undoubtedly plagued the Irons' season. Prized strikers Andy Carroll and Diafra Sakho have proven to be less than a dynamic duo as both are presently inactive.
Carroll continues to battle a groin injury that has left him to spotty appearances this season, completing the full 90 minute battle just 12 times through the 4th of May.
There are hopes for Carroll's imminent return, but Sakho is facing a season ending back injury that may indicate the Senegal international  has already suited up for his final match.. Bilic has pledged a proactive approach to addressing the situation with Carroll and Sakho in the off season.
Many fans would agree that defender Håvard Nordtveit has not lived up to the promise of strengthening West Ham's midfield that was much anticipated upon his arrival last July. He has struggled to improve the defence this season, and the Irons have performed slightly better during his injury absences. Bilic might be willing to jettison the once heralded Norwegian should the opportunity arise.
Of course, crisis often gives way to catharsis and healing. While it looks like 2016-17 will be one for the salvage yard, there are signs of early optimism for next year.
Like it or not, Bilic's continuation at the helm provides stability going into 2017-18. He has promised to tackle head on the weak spots in the roster, and the rumour mill is swirling with possible acquisitions that can only bolster the Irons. A few wise moves could even put the odds on their side for Champions League contention in the near future.
Here's hoping to a reversal in fortune and a slip slide to a destination atop the table!