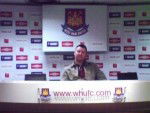 Nigel Kahn has been a critic of the move to Stratford from Day One and has never made any secret of it, fighting his corner constantly in declaring we should have stayed at Upton Park. But last night as he trekked into the new stadium we asked him to give us his feelings on his first match day experience post Boleyn. He has taken up the challenge. Here's what he made of it all.
When Hugh asked me to put down in words my take of last night I wasn't sure If I wanted to as it was never going to be one of "It's brilliant – a fabulous stadium." It was only ever going to be negative.
So I wasn't disappointed when I entered the stadium and sat in my seat. It was exactly as I thought it would be.
Walking round the stadium early, through the streets with no names, I could only think back and compare to the Boleyn, which had real character. If the move is going home, I don't recognise home any more. A one word review equals Sterile.
The stadium may look impressive from a distance, it may have great views over to Canary Wharf in the distance, but it has no soul, no heartbeat of West Ham United.
You can stick as many claret and blue seats in as you like, you can put up hundreds of West Ham London badges but it still don't mean this is the home of West Ham.
I can understand the excitement for many, I witnessed many of the over 20's bouncing around like 10 year olds acting as if it was their first time witnessing a game, and I don't begrudge them that excitement.
The club have marketed this as a step into the big time and anyone under the age of 40 who has possibly never associated West Ham with real success will see this as such – the chance to compete. Only time will tell if the club are right, or the moaning crusties as I saw us called on C&H this week are proved correct.
Personally, this club bears no resemblance to the West Ham of 40 years ago when I started my path to insanity. Like the rest of Premier League football it has evolved and was re-invented in 1992.
We are just patrons – numbers; customers, 'likes' on their Facebook page, to be counted and advertised as proof of the club's growth, and then enticed to part with our money. I'm starting to question the point of football. Is it there to entertain fans, or to be a business to earn and amass as much money as possible!
It seems to me that football is no longer a sport or entertainment for the benefit of the fans – it is big business, and big business needs big income. To get that we end up in a stadium that while being impressive is not built or looks right for football.
The reason for the move had nothing to do with the general fans, the club don't even get the income from my £4.10 purchase of a pie; our move is to do with that the corporate area at the Boleyn had maxed out and had no room to expand.
But at the OS they can market it to the big corporates, enticed with better surroundings for the business man. Look no further than the picture from the East looking over to the West stand as the second half kicked off. The swathes of empty seats as the club Wembley clients prefer the lounge to the thing  for which they are supposed to be there.
I won't be walking away but looking at the shiny new London stadium, with its Club London lounge and the London on the badge, I feel the club has whitewashed its past in pursuit of the pound in our pocket.
The foreign fans' with their dollars or Yen  seem to embrace the Premier League more than I can, and that for me was what football nor specifically West Ham Football club was ever about.
These views are solely those of the blogger and are not necessarily shared by ClaretandHugh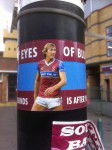 Nigel has just launched a brilliant new fanzine which was published ahead of last night's game and will be available for every home game.
Catch up with it here @ http://read.magazine.live/moore-than-just-a-fanzine/data/3447/reader/reader.html?t=636057634842140888#!preferred/0/package/3447/pub/3450/page/0