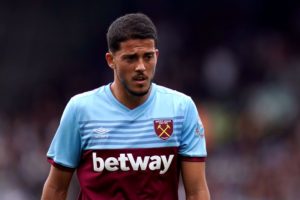 It's becoming increasingly difficult to see how Manuel Pellegrini can solve possibly his biggest problem – Pablo Fornals.
With a heavyweight story doing the rounds on Mario Husillos' transfer dealings, the manager has to find a way of convincing the board that the £25 million they paid for the Spaniard hasn't disappeared down the swanee.
At the same time as he is being forced to play another roundly condemned as a flop, Roberto, he seems unable to find a way of allowing Fornals a real chance of impressing himself on the team.
The stats are there for all to see: 10 Premier League appearances, no goals, no assists and if that continues no future!
Blaming Husillos seems more than a bit unfair in reality because although he has an input into who should or shouldn't be signed, the final word has to lie with the manager.
The director of football should simply be there to do the deal although he will presumably give wise counsel – as he did here – on potential signings.
With Jack Wilshere out of the picture, Manuel Lanzini  out of form and Felipe Anderson 'in and out,' the stage should be set for the 23 year old to step up and make a big claim for a permanent place.
But with points so badly needed how can Pellegrini trust him given his current situation and the longer it persists, the more pressure will come on from an increasingly worried board.
Difficult problem to which there appears to be no answer right now – a goal or an assist is badly needed from the boy when the manager eventually gives him another chance