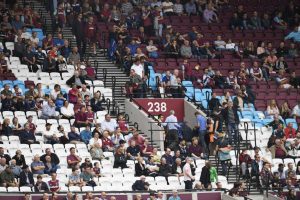 Thousands of season ticket holders were missing on Saturday as the Hammers on Spurs at the London Stadium. The London derby was a category A game with 56,988 tickets sold so technically a sell-out but thousands of seats were empty throughout the game.
Sky TV cameras picked up thousands of empty white seats at kickoff and many of these remained vacant during the whole game.
Many missed the early kickoff due to a combination of public transport issues and long search queues at the bridges. The ticket office queue was also the longest it has ever been at the London Stadium causing others to be late.
West Ham had hoped that a new rule potentially revoking season tickets after seven missed games together with a new promotion of the ticket exchange and ticket forwarding would improve the empty seat situation this season.
Around 5,000 season ticket holders were replaced this season after non-renewal but it is obvious thousands more are not turning up to every game or taking advantage of ticket exchange of forwarding functions.