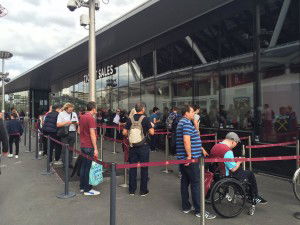 Many thousands of season ticket holders will miss the season ticket deadline at 5pm today as they let their season ticket lapse for the London Stadium.
West Ham are confident they will exceed the Premier League average eighty percent renewal rate.
In last week's Supporters' Advisory Board Head of Ticketing, Nicky Keye confirmed that the average renewal across the Premier League, is an 80% renewal rate while Executive Director of Marketing and Communications Tara Warren confirmed that the Club will exceed this and added that this makes it very important to manage expectations on relocations.
With eighty percent accounting for over 42,000 season ticket holders it will mean up to 10,000 will give up their season tickets which will first become available for those who want to relocate, then to those first on the 55,000 strong waiting list.
Nicky Keye also confirmed that today's season ticket deadline will only be extended if such an extraordinary systems situation did occur, such as the Ticket Master website crashing but added that steps had been taken to avoid the problem, including increasing the bandwidth on the Ticketmaster system and ensuring additional IT support.
The Priority relocation window opens tomorrow on Thursday 1st June and closes on Thursday 15th June with priority given to those forcibly moved from block 114 then in priority of the date you renewed your season ticket.
On Friday 16th June season tickets will go on sale to those at the top of the waiting list.
More details can be found at http://seasontickets.whufc.com/