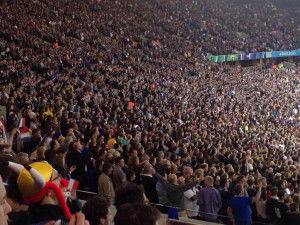 Thousands of supporters on the West Ham Season Ticket Waiting List have been contacted in recent weeks and asked to provide their preferences for the band of the season ticket they want to purchase.
The deadline for London Stadium season ticket renewals passes at 5 pm this evening with the club forecasting an 88% renewal rate.
As many as 4,000 season ticket holders will renew today before the deadline but that will leave approximately 6,000 who have decided not to renew for next season.  A relocation window for existing season ticket holders opens between 4th and 9th June after which the Ticket Office will start to contact supporters to allocate Season Tickets seats from Monday 11 June.  The list is claimed by the club to stand at around 48,000.
The club says everyone on the list should have received an update but if they didn't they should check the club have the correct email address.
An update from May can be found at  https://www.whufc.com/news/articles/2018/may/12-may/update-supporters-season-ticket-waiting-list
The club urge supporters on the Waiting List who have not received a communication to contact the Ticket Office by calling 0333 030 1966 or by email – ticketoffice@westhamunited.co.uk