Garth Crooks' BBC team of the week includes three Hammers!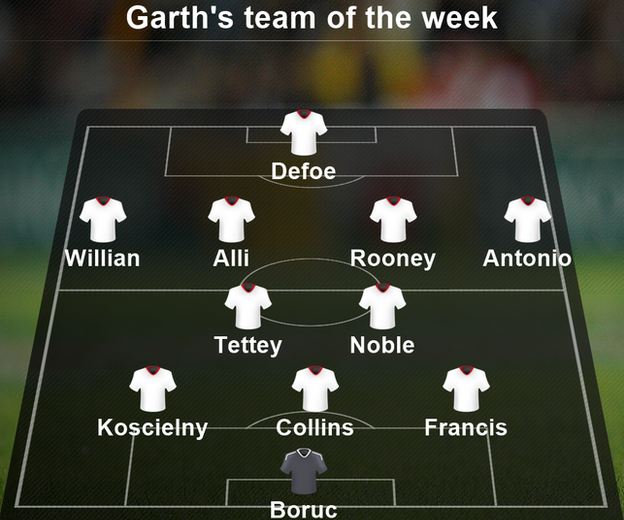 James Collins made 23 clearances against Liverpool; the most recorded by any player in a single Premier League game this season. If you are in a battle there are certain defenders you want in your team and James Collins is one of them. He has already made my TOTW this season and seems to be playing better than ever at the moment. Players like Christian Benteke were made for people like James Collins. It's the Roberto Firminos and Philippe Coutinhos that tend to pose a problem for the Welshman but not on this occasion. Like Gandalf, one of the main protagonists in JR Tolkien's novels The Hobbit and The Lord of the Rings, James Collins maintains the theme 'you shall not pass'.
Mark Noble, The ball into Andy Carroll for his beautifully headed goal was textbook. In fact if Liverpool had any sense they would have provided the same type of service for Christian Benteke. Players might be fitter and the nutrition better than in the past but you need none of that to put a cross in the box for a centre forward to attack. All Mark Noble did was play to his team-mate's strengths and it wreaked havoc. Noble also knows where the danger is. His clearance off the line was cool and calm and frankly typical of a lad who just gets on with it. Mark Noble epitomises everything this East End club stands for. The Hammers have produced some wonderful servants in the past and it looks like they've produced another worthy member of the West Ham academy.
Michail Antonio,The tackle on Liverpool's Alberto Moreno deep in West Ham's half should have been a free-kick but referee Robert Madley insisted play continue. However, what Michail Antonio went onto achieve thereafter was quite extraordinary. Having won the ball from Moreno in the first place, Antonio immediately recovered from the tackle and then followed the move he started in his own half in order to extend himself above Liverpool's defence to head home a most sensational goal. This young man has slowly worked his way through a number of clubs to get to Upton Park. If he keeps playing like this he could be making far more appearances.