By Hughie Southon
I didn't sleep well last night and I blame West Ham United – how do we suddenly get used to this turn around from the constant moaning and groaning of the last few seasons!
So many thoughts crowded into my head that I probably managed at best two to three hours but centrally they concerned three moments towards and at the end of the game that I believe shows where we are, where we could go and who is responsible.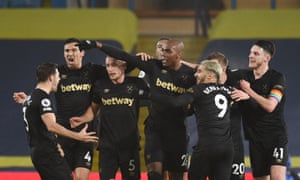 The first came as with a 2-1 lead and a demoralised Leeds in front of us I saw something I can't remember seeing before when Oggy and The General became a strike force with the Italian crossing for the Paraguayan to hit the post.
A huge smile crossed my face as I recall getting sucked into the idea a few weeks ago that David Moyes teams have a reputation for being nothing more than defensive units. Yeah sure!
The second was a moment of huge respect when skipper Nobes arrived to play his part and found Declan rushing to him and hand him the armband.
Brilliant moment and demonstrating that Dec is a humble bloke – never above himself and showing huge integrity to the bloke who remains his guvnor on the pitch as far as he is concerned.
OK, Nobes is on the wane and picked up a yellow but that really has nothing to do with the point being made – there's such a respect between them and the team itself as demonstrated at the end.
The celebration, smiles and sheer joy was something we have waited a very long time to see – none of the lads wanted to leave the pitch and just how great was that?
So here's the whole point of this piece: Everything we saw out there – two attacking central defenders almost adding a third, the respect and spirit among this fabulous squad comes from one place…the manager and his backroom team.
Ray Winstone told TalkSPORT yesterday the players had told him they love Moysie and that all he wants to see personally is the team smiling and laughing at the end of a game.
So maybe that one was for Ray.
I meanwhile will happily endure a few more sleepless nights with hopefully Thursday another – fifth place and Palace on the way.
Bring it on 'Woy' and COME ON YOU IRONS!