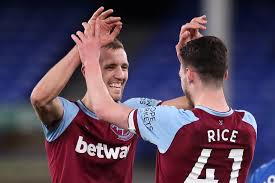 It's now a serious fact of Hammers life that we have players who are going to be regularly linked with other clubs!
The end of last season and this has seen Declan, Tomas, Vladi and – at a different level – Jesse all discussed as targets for other clubs.
But I recall Terry Westley telling me a few weeks ago that should we make Europe, Declan will stay and the same is clearly true of Tomas and Vladi.
The Lingard situation remains fascinating with United unlikely to raise the sort of cash they want given the financial situation in the game.
West Ham – via the academy and a clever tie up with Slavia Prague – is suddenly a club which is making the headlines for all the right reasons.
And that our best players are being linked with other outfits at a time when they don't have the cash to buy them is one of the best ironies in many years.
Declan has been quoted as a £100 million player by David Moyes whilst £17 million for Tomas and £5.5 million for Vladi seems utterly crazy.
I'm not gonna put prices on either – you can do that – but the reality is Dec is contracted until 2024 with option, Tomas the same and Vladi until 2023 – again with option.
That this should be the case at such a difficult financial time for every club is seriously good news for the Irons.
There will no doubt be many silly stories run about the three of them in the summer but the truth is nobody can afford our top three Hammers regardless.
Fortune it seems is not always hiding!
COYI