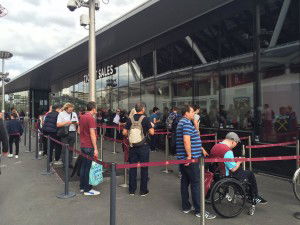 ClaretandHugh understand the long awaited official Season Ticket Exchange scheme will be launched in time for the Watford game.
A source close to the West Ham ticket office told us today "We expect ticket exchange to be switched on once Watford sells out.  The ballot should be processed between Thursday and end of business on Friday and emails will be sent to those successful."
With 50,000 reportedly on the season ticket holder waiting list there will be no shortage of takers for the 2,200+ ballot tickets which is guaranteed to sell out. Any season ticket holder who can't make the Watford game should have no problems shifting their ticket legally using the ticket exchange scheme to those desperate to watch West Ham play in the Premier League at the London Stadium.
Earlier this week ClaretandHugh exposed a number of illegal website selling hundreds of tickets for the Watford Premier League game at inflated prices between £113 and £450 per ticket.
Our source close to the ticket office told us "These are clearly not official sites, nor authorised by the club, in fact we spend a great deal of time monitoring tracking and reporting these seats with the Premier League with help from the legal departments as we are constantly trying to close these sites down.  The sad matter of fact is it is fellow "fans" and supporters who are listing and providing these seats to these sites.  However we take strong action with a team working on this and ban any fans found illegally re-selling their seats especially when at inflated prices."